What is Poor Mental Health REALLY Costing Your Business?
Coping with C-19's mental health fallout is costing UK businesses. Maybe no big surprise.
The bigger surprise is that, in spite of 67% of HR leaders identifying mental health and stress issues as their business's biggest wellbeing challenge, over 50% of businesses have simply stood still for the last year on their wellbeing strategy and resources.
Why is this?
According to an admirable survey of 400 HR leaders*, a lack of senior management support for wellbeing is preventing businesses from tackling mental health in the workplace.
31% of those asked said a lack of buy-in from senior leaders was the biggest barrier to implementing wellbeing strategies (ahead of 'limited budgets' and a 'lack of time').
So what can you do to present a cogent case for starting, sustaining or increasing investment in wellbeing programmes at your workplace?
Let's start with some nerve-prodding data*:
Poor mental health cost employers between £33 billion and £42 billion in 2020, a rise of 16% in the last 4 years
The cost of absenteeism due to reasons of mental health increased 10% in 2020, an increase of £1.3 billion from 2019
The current price tag of mental health conditions now stands at an estimated £1,300 for every employee in the UK economy
Burnout and presenteeism (ie employees are in the room but not fully functioning) are on the charge with 36% of workers revealing their workplace/wfh productivity is being negatively impacted by mental health on a weekly basis
76% of workers feel their productivity has stagnated or fallen over the last year
45% of sick leave is mental health-related
35% of workers say their mental health has declined during Covid
34% say their morale is poor
27% say they are less engaged year on year
22% are concerned about losing their job
21% said they feel lonely more often
15% have symptoms of a mental health condition (such as stress, anxiety, depression)
And just to nudge those employers who might think the above doesn't apply to their world:
93% of workers who have taken stress-related leave have lied to their employers about the real reason behind their absence
67% feel scared, embarrassed or unable to talk about mental health concerns with their employer
Research by Business in the Community (BITC) has shown that work-related mental health problems are caused largely by increased pressure and workload, and lack of support. Negative work relationships, lack of trust in managers and the poor handling of organisational changes are other prominent factors.
Absenteeism vs Presenteeism
Average cost per year per employeeSource: CfMH, ONS, Vitality, Deloitte analysis
The Presenteeism Predicament
During the last decade, the overall number of sick days taken per employee has fallen, while the amount of time lost because of mental health conditions is rising.
Rather than taking time off and having to face the stigma or consequences of a conversation about poor mental health with unaccepting employers, it would appear that employees would rather spend unproductive and potentially damaging hours working when ill. A lose-lose if ever there was one.
Presenteeism whilst working from home can be difficult for an employer – even the most empathetic, Zoom-acute manager – to detect. It's even more dastardly to contemplate.
Presenteeism costs businesses twice as much as sickness absence relating to poor mental health.
What's Your Most Vulnerable Demographic?
The recent Deloitte / Mind report on the impact of poor mental health costs on UK employers* throws a light on various studies which find higher prevalence of mental health problems among younger people. They emerge as the most vulnerable demographic in the workplace to poor mental health.
It finds that employers lose the equivalent of 8.3% of the salaries of those aged 18-29 as a result of poor mental health. Young people are less likely to disclose mental health problems to employers and more likely to use their holiday rather than take days off work to 'recover'.
However, as the vaccine roll-out gathers pace and thoughts turn to what a hybrid/flexible work environment might look like, evidence suggests that employees are becoming less inhibited in seeking clarity and support from their employers around mental health.
Timely Demands
Driven by the needs and mindset of the burgeoning millennial workforce, more bottom-up demands are going to come your way around your organisation's mental health strategy. Here are some clues:
28% (and rising) of workers wish to plump for flexible hours and working from home
26% desire more mental health support at work
24% desire additional wellbeing support to promote a 'positive working environment'
28% desire improvements to the working environment so that it is more Covid-secure*
The old-skool Branson adage 'take care of your employees and in return they will take care of your business' has never resonated more loudly than now.
Annual costs per employee to employers of poor mental health
£, mid-points by age, 2018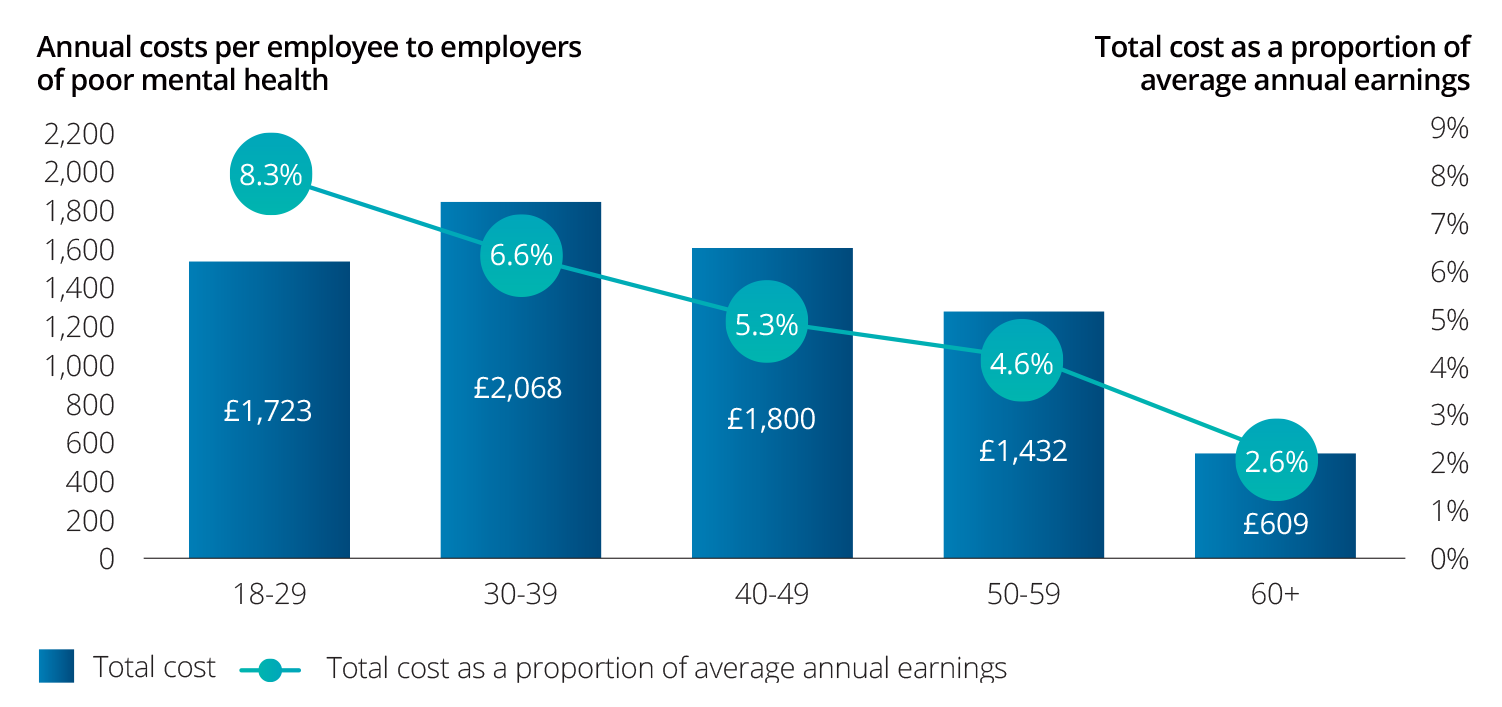 What Businesses Need to Do More of…Now
In short, businesses now need to 1) address the lingering impact that lockdown anxiety and stress is no doubt having upon colleague productivity, morale, motivation and engagement, and 2) simultaneously build their financial recovery and culture upon a platform of wellbeing.
This means taking a preventative approach to mental health in the workplace and empowering/educating/encouraging managers to lead constructive and open conversations about mental health with their team members. We'll be talking more about what this looks like in our next white paper.
If you are an HR leader, you'll need no selling on this notion. And with a bit of luck your stakeholders are aligned with you, your wellbeing budget is suitably plumped and set for exponential growth.
In fact, the indicators around this are starting to look promising*:
The average amount spent by UK businesses per head on wellbeing increased by 34% in 2020 (from £223.50 in 2019 to £300 in 2020)
36% of businesses plan to increase spend on wellbeing programmes in the coming year, 56% in the next 5 years
52% of HR leaders agree that wellbeing is becoming a higher agenda ticket at their company
Shifting the Stubborn Boardroom Ostriches
If the data above hasn't quite hit the spot yet, how can you shift the more stubborn boardroom ostriches and convince them of the link between the mental wellbeing/productivity of their talent and wider business performance/recovery?
Clearly, a short-term financial hit is yielding long-term, sustainable benefits for proactive leaders who are already investing in colleague wellbeing. Try these neck-pullers:
On average, for every £1 spent on supporting their mental health, employers get £5 back on their investment in reduced presenteeism, absenteeism and staff turnover*
Deloitte / Mind's report* pinpoints the following characteristics that indicate your wellbeing interventions will achieve the highest returns:
Large‑scale culture change, or organisation‑wide initiatives supporting large numbers of employees
Focus on prevention
Design programmes to build employee resilience
Use technology or diagnostics to tailor support for those most at risk
The Earlier the Intervention, the Higher the ROI
The earlier the intervention, ideally organization-wide culture change and education, the higher return on investment. Later interventions, when your team members are struggling, require more in-depth support, are more expensive and less effective.
Taking steps now to support mental health at work WILL result in more engaged, productive, happy colleagues who will actively promote your business to customers, colleagues, family and friends alike:
78% of businesses investing in wellbeing programmes are reporting high engagement (24% above the norm)
46% cite improvement in colleagues performance, reduced absence levels (17%) and less churn (11%)*
We hope there are enough nuggets in the data above to help you calculate what mental heath is potentially costing your organization.
Determining the cost of churn, absence and presenteeism against your KPIs should enable you to build a case for investing in a mental health and wellbeing programme against the risks of not effectively supporting your colleagues.
Taking the lead in promoting mental health should be at the top of every business leader's to-do list.
Those who choose to bury their head in the sand are undermining the mental health of their colleagues and the wealth of their business.
Writer Chris Humphreys is an author, mindset, wellbeing & communications coach at The RAISE Your Game Partnership whose RAISE and THRIVE mindset and wellbeing webinar programmes prevent, re-set and solve the stubbornest of mindsets, behaviour and cultures www.rygp.co.uk Contact: chris@rygp.co.uk
*Our sources –
Thriving at Work, Stevenson/Farmer Review of Mental Health and Employers – UK Gov 2020 www.gov.uk/government/publications/thriving-at-work-a-review-of-mental-health-and-employers
Mental Health at Work, Centre for Mental Health 2020 www.centreformentalhealth.org.uk
Mental Health and Employers: the Case for Refreshing Investment, Deloitte / Mind, 2020 https://www2.deloitte.com/uk/en/pages/consulting/articles/mental-health-and-employers-refreshing-the-case-for-investment.html
Coping with Covid, Workplace health survey by Westfield Health reported in HRDirector magazine, Feb 2021 www.thehrdirector.com[/vc_column_text][/vc_column][/vc_row]